Appearance:
Build:
From slim to fat and muscular to stocky.
Height: (cm)
Females: 170-180
Males: 185-195
Weight: (kg)
Females: 55-75
Males: 65-95
Lifespan: (yr)
Females: 165-170
Males: 155-160
Skin:
Pale to red to golden.
Hair:
Mostly brown or black but any other colour or tint has been seen.
Eyes:
Any.
Language:
NIMZAXIAN

WESTRIL

ILEISH

OL-DARIN

HIGH-ARLINIAN

OST-ARLIAN

THA-ARLIAN

SOUTH-DARIN

RIM-DARIN

EAST-DARIN

WEST-DARIN

UPPER-DARIN

MAARKISH

FINDONIAN

EAST-FJELLAS

WEST-FJELLAS

EAST-DALISH

WEST-DALISH

LOW-NALDAN

HIGH-NALDAN

NORTH-UTAR

NORTH-SKOGISH

EAST-SKOGISH

UPPER-SKOGISH

SOUTH-SKOGISH

WEST-SKOGISH

CENTRAL-SKOGISH
Culture:
COASTAL

DESERT

GRASSLAND

HIGHLANDER

JUNGLE

MARINER

NOBILITY

NOMAD

SWAMP

URBAN

WALDER
Legend
"Out of the mists of time, from the cradle of several tribes of Human origin. Some families became not Hordes but Noblesmen of legend".
History
As they have ancestors from from both Wanderers and Indigenious Races. They have through times called themselves what they felt for. But in the last century Scholars with an urge to label everything has, especially since the forming of The Realm, named them Realmar.
Their mixed heritage resulted in less focus on the quarrels between Vular and Jomzaar, and more on cultivating the lands, grow in numbers and strengthen their families 'Houses'. Almost as the N'Aldaan, but with slightly less top-down control and far less disrespect of the Traders. Instead it was Farmers being the low social class.
Their 'Royal Houses' grew to such might that they built great castles, towns and cities. With large courts, administrations and a huge Nobility class of Princes, Counts, Barons, and so on. Each with their own familys pride to look out for and thus wear distinctive Coat of Arms. Making them look splendid and colourfull setting off to skirmishes, battles and war campaigns.
Skjald Sejrik
Their Houses are now spread across The Realm due their skills in trade, craftsmanship, combat, magic and shared politics. Because one thing easily unites the Realmar and that is threat to one of tbeirs or a chance to expand. So, they even linger above the Grimsborg perimeter, which normally keeps Wanderers below it. Their settlements up there are though more sparse and generally smaller than in the South.
Ages have passed since their Wanderes heritage, so their characteristics have diminished, however they still form an important contingent amongst the mannish races. Especially as they hold countless tourneys every year. At the cost of some bold but foolish, but its seemingly a price worth paying.
Skjald El Mary
Cartography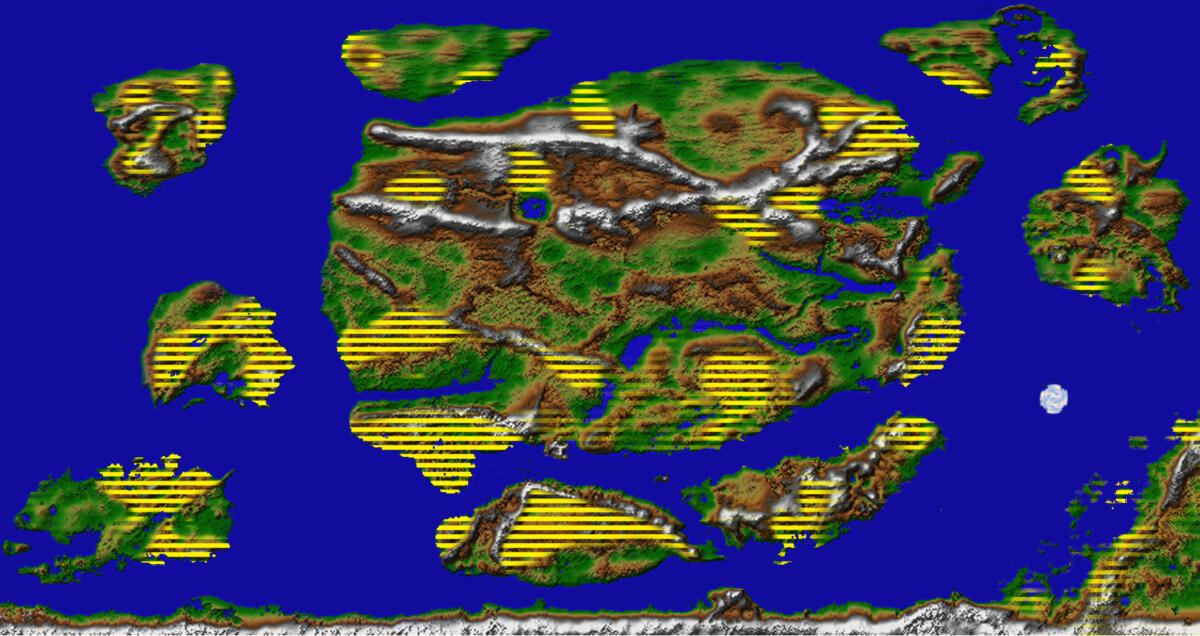 They are spread throughout the following Isles and Countries
Midgard: Bebram, Etain, Falbur, Fridor, Fril, Gaslug, Keshon, Kustu, Ladris, Scia, Shoak, Spiy, Thayri, Trov, Udring, Zilbur
Naldar: Jabos, Karoly, Lioni, Seviels
Dalip: Agion, Amrad, Bowei, Golny
West Fjella: Apal, Claun, Oglan
East Fjella: Grebi, Tornix, Usai
Findon: Andalus, Skelop, Ugren
Mealis: Burfal, Osmes, Pearlin
Skjald Ulrich
Organization
Mostly they lived in large castles or villages, but also in large cities or as individuals living isolated, mostly studying. They are all sworn upwards in fealty, ending with a king or Queen of their House. They do however not share a common Emperor or King of Kings and has only once in their history had one such. As they in 1254 SA swore an oath to Black Oak the High King of The Realm. An oath hard won and kept, but honoured loyally in The Great Invasion, despite the 3rd High Kings Death. But also abandoned with relief as the Cleansing Crusade ended.
Skjald Vinotis
The most famous of all Realmar are Den Godan, whos family choosed the way of Hordes as it suited them best
Skjald Yell'a'Beard
Special
They are loyal to their oaths no matter what.
Skjald Valgrif
Last Updated on 2023-10-14 by IoM-Christian