The 40 Great Ones
ISLAND: DALIP
MOLTINS CREEK

RIVER ARBUL

GÜLVARR

LOPLUS TRIBUTARY
ISLAND: EAST FJELLA
RIVER RONMARRS

RIVER HONVER
ISLAND: FINDON
WILTHAMS RUN

MELTANO RILL

MANHOVER CREEK
ISLAND: MARKEOY
NIAPIDS RIVLETS

KIRKY'S WATERS

TURQUISE CREEK

WICKRAM RIVER
ISLAND: MEALIS
BURFAL TRIBUTARY

PEARLIN RIVER
ISLAND: MIDGARD
NIELS TEAR

OGOC FLOW

TZEANHU STREAM

GRENAA FORK

TYRINS CREEK

PIKSE WATERS

ZONMAS CREEK

GAVOL RIVER

SIPPIMIS RIVLETS

KONKMEL WATERS

GEGANG CREEK

BUDAN RIVER

LANGAA RIVLETS

ODANS WATERS

CROLKUR CREEK

CIWMAR RIVER
ISLAND: NALDAR
RIVER BRAKKARS

LIONIS LINE

RIVER RUMLESTEIN
ISLAND: UTARI
RIVER ARI

GILTHANT STREAM

PUTDWELL CREEK
ISLAND: WEST FJELLA
RIVER FROL

RIVER FULMOT

TRONDS TRIBUTARY
Lesser Rivers
Legend
"It is as if water is the source to everything in our world, and where we tend to gather."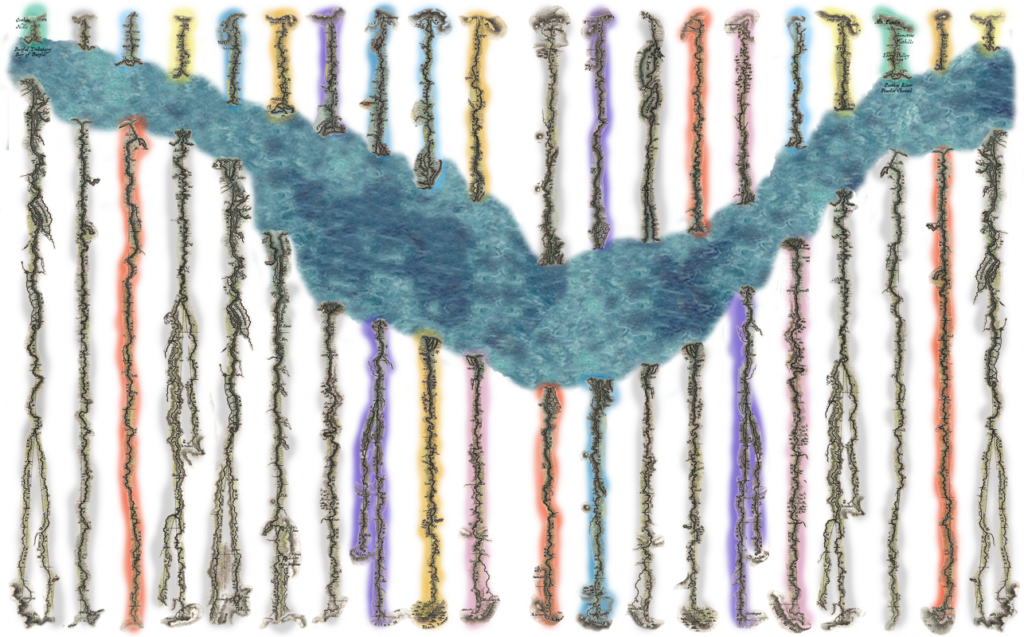 History
Riwers of streaming water is first mentioned in the Eskecalda saga, where a God following a Mana leak into The Void. Floating in the direction of the leaks lingering poi nt, it suddenly encountered an area of solid mattter and some odd liquid matter floating along its edge.
Organization
Any riwer has a offspring, in fact one could argue that its merely streams, creeks and similar small ones that has it. Riwers instead can be argued to have sources, as they normally are extremely wide and long, some stretching hundreds of kilometres.
As riwers run they are often fed by numerous sources and becomes quite powerful, able to flush valleys abd cut mountains. At places their width and depth makes them seem slow and gentle in their passing. But in arrow and shallow passages they become fast, noisy, and turbulent. Bringing death and destruction to anything and anyone attempting transport.
So long… quiet song…
So wide… gentle glide…
So thin… peeling skin…
So low… teeths show…
The fluid fangs of fish and beast…
They aid, cut, and shape our World
We have alongside with the Cartographers made maps of is considered the 40 major riwers. But theres still old shores being visited to ensure accuracy and some are redrawn as errors and changes discovered and as the great library of Grimsborg burned we are redoing work on all 16 major riwers of Midgard.
Special
As riwers consist of water, they are seemingly able to cut Essence magic off.
Last Updated on 2021-08-01 by IoM-Christian