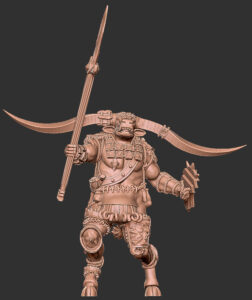 TROG LE V'ANGIL
RACE: T'Aurs
REALM: Red Mentalism
AURA: Red
HEIGHT: 293 cm
TITLE(S)
TIMELINE
1164  Born
Legend
"A calm vind, gentle as lovers touch but also able to become a tornado of fury."
History
Born in the dense forests of Etain
Skjald Ulrich
As her adulthood slowly led her to become a very adapt warrior, backing down from no task or duel, she craved for more challenging tasks. This led her up through officers ranks and now she stands Commander of LEGIO IV.
Skjald Yell'a'Beard
When The Great Invasion hit, she was at the beast master fair in Grebi overseeing a speak about the dangers of monster hunting and the traumatic life it could bring hunters. There she saw the massive Mammutan for the first time.
Skjald Sigurd
Special
Able to release and calm his Fylgia at will, even when infuriated.
Skjald Sejrik
Last Updated on 2023-05-08 by IoM-Christian