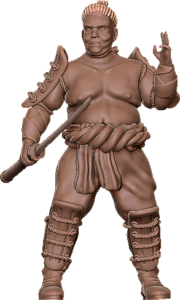 Appearance:
Build:
From muscular to fat and stocky.
Height: (cm)
Females: –
Males: 170-190
Weight: (kg)
Females: –
Males: 120-215
Lifespan: (yr)
Females: –
Males: 115-120
Skin:
Golden to red to yellow.
Hair:
Mostly black.
Eyes:
Mostly brown.
Language:
NIMZAXIAN

WESTRIL

HIGH-ARLINIAN

THA-ARLIAN

EAST-DALISH

WEST-DALISH

LOW-NALDAN

HIGH-NALDAN

SOUTH-SKOGISH

WEST-SKOGISH
Culture:
Legend
"From harvest dancers, to court entertainers, they also bless the battlefields as what I'd call 'human hammers'."
History
They origin goes back to the dawn of the N'Aldaan empire, some say they are even older than that, as they danced to bless crops long before the first Sharun of Sunborn was elected by the Ubun. We have found several separate indications to this claim, and havent verified a single one that it was the empires product, so we stand behind this claim.
They did however change heir role slightly during the earliest Sharun of Sunborn's as they became part of grand court feasts and shows when foreign diplomats came around. Thus their role elevated from being fed by the local popluation or small temples, to being sponsored by bragging Ubun and prestige hungry  Igaar. Through time they evolved into a social class by temselves, slightly above the Igaar and below the Ubun's. Thus they are much respected and apprentices are found and taken at a very young age.
At some point, there was a Pigryn Invasion from Outlands, spreading terror across the lands and destroying villages and crops alike. Seeing their local areas go up in flames -they doned sparse armour, grabbed mighty ceremonial weapons and took the battlefield -blessed by their shrine and temple masters or the locals . Thus they also became a force to be recogned with on the fields of moans and blood.
Skjald Sejrik
Environment:
They are harvest dancers blessing the local crops, and thus mostly live secluded in their temples or performing for the lords at court or the elite at harvest shows. So its not often they are seen with weapons and clad for war. But they can and will do so, if their areas are threathned or ordered out by their masters.
Skjald Vinotis
Organization
They are organized in small groups, adhering to one single temple, shrine or deity. As such, when they take the battlefield, they may be sponsored by several 'Zan Houses and avoid to wear back banners to break their sacred bond at the battlefield. Instead they wear a blessed Tsuna belt to symbolize they are a tsunami of towering muscle and flesh, embodyments of prosperous lifes due great harvest results and victorious lifestyles.
Skjald El Mary
Army
When they take the battlefield, they do so as one unit of Suhemar and as carrying crew for the Sacred Army Shrines.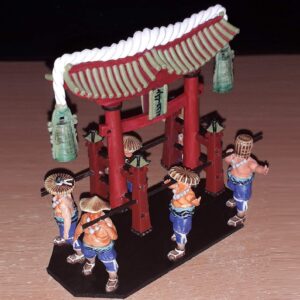 Skjald Sigurd
Special
They can wield two handed weapons in one arm, but prefer to use both to give the swing more force.
Skjald Valgrif
Last Updated on 2021-12-12 by IoM-Christian