Legend
"The Land of Lakes, or Hinge of Southern Midgard."
History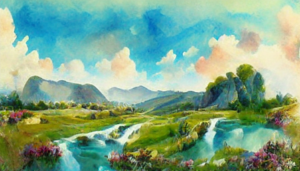 In the 1st Cataclysm Southern Midgard almost broke off but Ebrar held firmly to although stretched. This created several deep lakes and a fertile central lowland and large rolling hills. Perfect for the Tatongōl, Moss'Ari, Kobold populations and later on also Rimzir.
At the bottom of Linjaku Lake lies two sunken Borji cities, Aong Kion and Bey Xien. Very hard to reach but those that do can still find ancient Items.
Skjald Sejrik
Cartography
The central part is dominated by Linjaku Lake.
Skjald Valgrif
Organization
Split into several districts ruled by either Kings, Clans and whatsnots. Travelling through can be an experience of many pleasures.
Skjald Yell'a'Beard
Special
At the antique or black market ancient Borji goods can be found.
Skjald Sejrik
Last Updated on 2023-03-15 by IoM-Christian