Legend
"When Ljostari sank the Vornir cried and their tears cleansed the Lake. Seeing this they spun new fates for a tribe of Moss'ari who lived on the Isle."
History
Kistal is a small isle in Lake Mirror and one of the strongest Earthnodes in the World. So be careful with Mana Manipulating when visiting. Or you might be consumed in the process.
We have no records of when the Moss'ari tribe that lived there abandoned it, or where they went. But, early in Second Age it's rumored that a wise woman lived here and collected many ancient books, scrolls, notes, items and potions. Yet, she also vanished in the mists of time, most likely died of old age. Taking with, the secrets of her mysterious treasure chamber.
Then in 1167 SA Deepminded came and took ownership of it.
Skjald Valgrif
Organization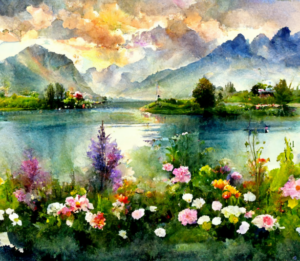 Kistal currently contain but one hamlet, Halkistal, with a great hall and a dozen small huts, few guesthouses and a couple of barns. Its owned by Deepminded the reborn, daguhter of herselves, mother of her grandmother. Who managed to recall the ancient chambers, find the lost key and once again open the doors to legendary Heroes and bold guests.
Skjald Sigurd
Special
Setting foot on Kistal, the Earth-node can sense ones intentions.
Skjald Ulrich
Last Updated on 2022-10-11 by IoM-Christian