LOCATION
CLIMATES
LANGUAGES
NORTH-SKOGISH

EAST-SKOGISH

UPPER-SKOGISH

SOUTH-SKOGISH

WEST-SKOGISH

CENTRAL-SKOGISH
RACES
CULTURES
HIGHLANDER

JUNGLE

SWAMP

WALDER
Legend
"Vale of oldest Fautyr… cradle of natures wildest…"
History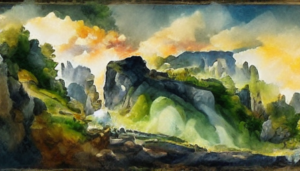 Its history goes back to the 1st Cataclysm and stretches deep between two steep Mountain walls. Its vast forests and roughlands are amongst the oldest in the World without Settlements. Surely a result of the Fautyr present and their prevention of Settlers taking residence. Sometimes by brute force as they learned talks brought nothing but misery, the latest was in 1221 S.A.. When a group of Human claiming to be Cartographers where allowed to enter deep into the lands.
Instead of mapping they harvested rare Combat Herbs and pricious Resources. And when accidently caught in the act by a Fautyr family, they tried to hunt them down for a kill -and managed to catch the Fautyrs at a steep cliff. Firing their bows the Female died as she threw herself in front of her offspring and the Male was gutted as it charged the lot. Just as the culprits where to 'handle' the young one -a mighty warcry rang out!
As they stopped and looked around, Swine-Bro and a few of his exiled gang charged into the open, where they outright killed og brutally kicked the murderers from the cliff. Turning to the young Fautyr, looking at the dead parents, Swine-Bro expressed his sadness in being late. To which emerging Fautyrs tuned in… situation explained Swine-Bro's Gang was allowed to meet their leader.
Skjald Vinotis
Cartography
Forgotten Vale is broad and deep and has quite a lot of different Settlements
Skjald Sejrik
Its worth mentioning, that in Forgotten Vale a rather public and large amount of Fautyr resides. Led by Sun E'lis, thought by many to be the oldest Fautyr. Sun E'lis has led the tribe well and always kept an open attitude, even welcoming refuges like Swine-Bro from Noriag when he needed a place to reside for a while.
Skjald El Mary
Organization
Some parts are governed by Fautyr or other Races, but as such the wilderness, rough, farmlands and roads are maintained and evolved by a council of residing settlement representatives.
Skjald Ulrich
Special
Vast forests of Bluewood.
Skjald Valgrif
Last Updated on 2023-06-25 by IoM-Christian