Appearance:
Build:
From slim to muscular.
Height: (cm)
Females: 180-195
Males: 185-200
Weight: (kg)
Females: 65-110
Males: 80-145
Lifespan: (yr)
Females; 185-190
Males: 175-180
Skin:
Pale to red to light golden.
Hair:
Mostly shades of golden, yellow or white.
Eyes:
Any.
Language:
NIMZAXIAN

WESTRIL

ILEISH

OL-DARIN

HIGH-ARLINIAN

OST-ARLIAN

THA-ARLIAN

SOUTH-DARIN

RIM-DARIN

EAST-DARIN

WEST-DARIN

UPPER-DARIN

MAARKISH

EAST-FJELLAS

WEST-FJELLAS

EAST-DALISH

WEST-DALISH

LOW-NALDAN

HIGH-NALDAN
Culture:
COASTAL

GRASSLAND

HIGHLANDER

JUNGLE

MARINER

NOBILITY

URBAN

WALDER
Timeline:
300  Founded the Jomzariaan Empire
700 SA Their empire dissolved
Legend
"Oh so rash, always eager to shov themselves… yet, that was what gave us the mightiest of deeds."
History
According to Kanziganthir they where born before the Vular, who on the other hand slightly surpassed them in skills and use of Magic. Some tales state they share roots with the Vular, but it's rather unlikely, as their official annals reveals they have always been on hostile terms towards each other. They are considered to have been the second wave of Wanderers crossing The Rim and their tales tell of fire raining from the sky and earth raining upwards when they crossed.
Their lifespan is far greater than the other mannish races and they are considered the most gifted Mariners of The Realm. They are exceptional Hunters and Farmers. They are capable of feats of greatness that have fostered many a legend and some have gained respect and friendship from the leaders of most Other Races.
They where the vanguard of the southern mannish race when The Realm was under threat and their aid was an important factor in fighting down The Great Invasion. They often act rash or impatient towards the Vular.
Skjald Sejrik
Environment
They are  spread out throughout the southern Isles of Naldar, Dalip, West Fjella, East Fjella, the southern parts of Midgard and in three cities at Markeoy. Normally they mind their own business and don't mingle with the lesser Races, but at times they both visits and settles in their hubs. And unlike their Vular and Rimzir kin they dont fancy the Other Races very much.
Skjald Vinotis
Cartography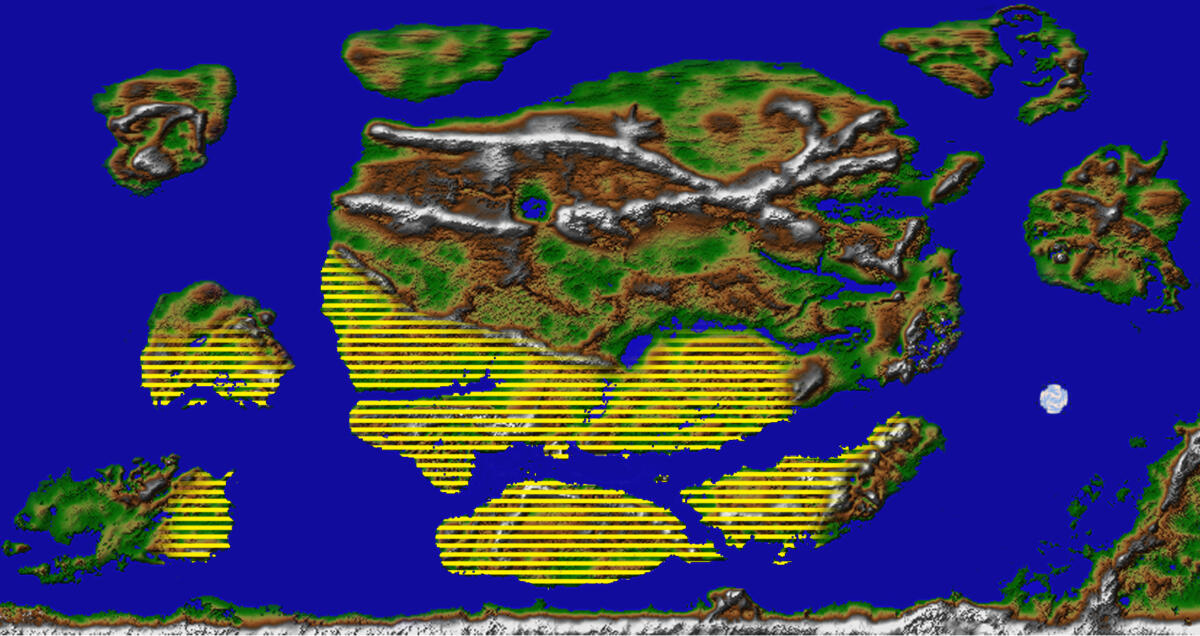 They are spread throughout the following Isles and Countries
Midgard: Ebrar, Etain, Fridor, Fril, Gaslug, Kustu, Ladris, Scia, Trov
Naldar: Jabos, Lioni, Karoly, Seviels
West Fjella: Apal, Claun, Esly, Oglan
East Fjella: Grebi, Tornix, Tusla, Usai
Skjald Ulrich
Organization
They are either individuals living isolated or living together in small isolated communities. They are also one part of the ancestors for the Realmar and Common Races.
Skjald El Mary
Special
They are considered The Realm finest Trackers. They are practical, rugged, straightforward, proud, somewhat loud, and warlike but 'good'. It is the very rare individual of them who knows the languages only briefly touched by their culture.
Skjald Valgrif
Last Updated on 2023-10-14 by IoM-Christian