Legend
"."
History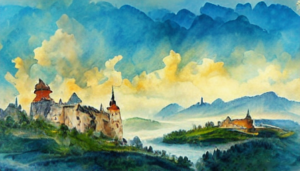 Skjald
Cartography
North Fril is mainly roughlands, hills, foothils and mountains with a few large valleys and many a steepsided cleft. The Northern Border to Fridor, Sloviit and Ascal are littered with broad mountain passes and deep narrow cut clefts.
At the Frifril shore one can go through Frilfro Marsh up into Fridor. At the backside of Yumtuna Kettle Yumtu Pass leads across the mountains. So does Lefcus Valley and Culef Gate, Birza Crack at the end of Loktar Plateau. The large self governed region of Pexu Inbuk has two passes leading into Fridor; Lower Himkatu and Upper Himkatu, and four leading into Sloviit; Sjeris Cut, Lakir Ledge, Zypol Drak and Herqa Mol. At the Eastern side of Mt. Dyvmyt the Twin Mak Plateaus has one pass Mak Frida leading into Sloviit, and two passes; Vibbes Cut and Vogges Cut leading into Ascal. Further East theres also Nolga Pass, Raxi Ridge and Pezu Piyx leading up into Ascal.
The Border into Trov are through the broad Trovall and across three large bridges; Olma Gate across Olma Knoll, Vapve Gate along Vap Holm and Ve Peninsula, and Lyvre Gate from Lyvre Dam to Lutvi Holm.
To the South Fril share the gargantuan fjord with Trov and in most harbours theres also military and tax garrisons to handle the many traders and caravans landing. Southern Fril are vast grasslands and crop fields. The Southeastern part, between Begala Bay and Deertoe Ponds are a rather treacgerous marshland.
Centre are slowly raising in altitude and roughness and in the middle Mt. Gazo, Mt. Alnaf and Mt. Giztol towers.
Skjald Vinotis
Organization
.
Skjald
Special
.
Skjald
Last Updated on 2023-02-06 by IoM-Christian