Legend
"Sun baking sand… roasting skin… darkening chin and hand… aflaming easily any hand."
History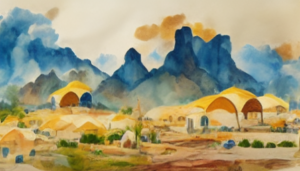 Once it reached furtherNorth but lost much land that sank into The Deep Blue when Ljostari sank as well. This never impacted upon the two major Indigenous Races living and gaving long established cultures there though.
Far greater impact on these has the Wanderers actually had, as the Common folks now lives amidst them and at some places even discarded the old ways totally.
Skjald Yell'a'Beard
Up through First Age and untill the Age of Hordes the Ortagui and Findograa fought many skirmishes and wars. The latter generally cooked and ate their prisoners of war, when they won. Or became enuch thralls for their new masters, or sold to Kinoblin and sailed off to Outlands. But during the Age of Hordes the Kinoblin stopped coming by.
Skjald Valgrif
Cartography
Common, Findograa and Ortagui folks equally hold sway over different areas. So be ready for some coins slipping your hands if you travel there.
Skjald El Mary
Organization
As with all other Countries, there are Other Races living in Flurg than Humans. But the gereral rulers and force of law are indeed Humans and the Other Races mostly keep to themselves. Or stay hidden alltogether. Thus are the meeting of strangers and exotic Races not something most are used to.
Skjald Ulrich
Special
Be prepared for paying loads of road-fees.
Skjald Sejrik
Last Updated on 2022-11-20 by IoM-Christian