Appearance:
Build:
From lithe to muscular
Height:
Females: 165-175
Males: 170-190
Weight:
Females: 72-90
Males: 70-90
Lifespan:
Females; 90
Males: 85
Skin:
Grey, beige, tan, dark brown
Hair:
Black, brown, grey
Eyes:
Black
Language:
Greater Common

Greater Ancient

Regional

Country-wide
Culture:
Legend
"The Ljost Alfar scouts noticed the Seal swimming ashore, then it stood up while shedding its skin and the most stunning Human female ever stood before them."
History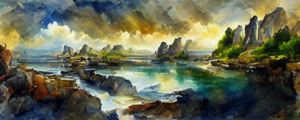 The first sighting was in the D. A. so their kin is as old as any. Yet their age aside they have never multiplied like most other Races.
Skjald Vinotis
Should a mortal woman…  wish her a sealkin-man…
A rite to follow… at high tide… at the shore…
From hollow eyes… shed seven tears…
Into the deep blue… He'd come true…
Skjald Kazumix
Organization
They live in the deep blue sea and are generally kind and helpful. In their communities its the females who lead and they shun the conflicts and wars of land based Races.
Skjald El Mary
Special
While in human form they are highly seductive and have many freckles. They can change into Seals.
Skjald Sigurd
Last Updated on 2023-03-16 by IoM-Christian