Legend
"Once a peaceful land with shoreview of Ljostari but now somewhat tormented due the Arisen tomb Kings & Queens who rose due the tsunami from Ljostari downfall."
History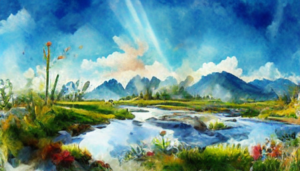 The two most significant events in Spiy history are the flooding when Ljostari sank and the Kings meeting in Tartu, its capital where a large score of kings met in 1208 SA. To discuss the possibility of a High King and a peaceful Realm.
Skjald Vinotis
Cartography
The Northern part of Spiy above Lake Zykza Terlos Pond are dominated by the huge Klintas Top.
South of this Opam Valley stretches along Giv Norrs Peaks.
Skjald Sejrik
Organization
From the birth of The Realm until the end of the Cleansing Crusade they where sworn under the High King. Now it is ruled by a myriad of lesser Nobility and remaining Royals, trying to grow their areas and wealth, and keep the Draugr at bay.
Skjald El Mary
Special
Home of the Tomb Kings… and their reanimated servants…
Skjald Kazumix
Last Updated on 2023-02-12 by IoM-Christian